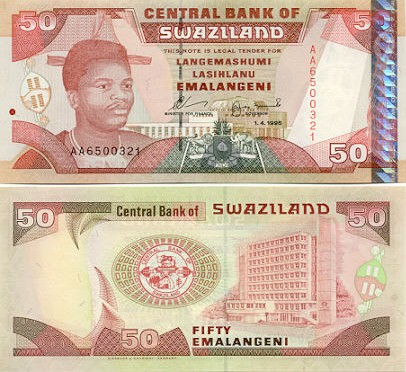 Your Majesty,

The one most valuable thing I learnt growing up in the dusty, yet friendly, streets of Manzini, is how to respect others. Particularly, how to respect those older than me. It is with my deepest humility and respect that I write this letter to you.

I wish I could sing your praises line by line. Unfortunately, I took the French path in primary school when I should have taken advantage of our SiSwati curriculum. All is not lost however, because I can still effectively communicate with my country men and women, read SiSwati books and enjoy our funny TV shows and commercials. Perhaps I can even write a novel in SiSwati one day. Bayethe Ngwenyama yesive semaSwati! I'm writing this letter to bring to your attention, your royal majesty, an issue I have been battling with as a young Swazi woman studying away from home.
I remember my days at St Michael's when I was the star of my class... I walked everywhere with pride. Come the annual prize giving ceremony, My mother would make sure to bring baskets to accomodate all my prizes, from Math to Additional Math, French to English, Chemistry to Physics. The one I failed to snatch was that Geography one. It's too bad I could never memorize those plate tectonic mechanisms. I was also a little on the lazy side to get a grab of the home economics and agriculture prizes. I applauded the girls that did, however. It makes me wonder : where are they now? We all strived to get into our tertiary institutions of choice when the St Michael's days came to a bitter end in November 2000. As a Swazi, I was proud to see my government sponsor every high school graduate who got into their program of choice in Swaziland, South Africa and other SADC countries. I made my own decisions to come to the USA and that is a whole new topic, but I don't speak for Swazis in the States. Today, I speak for Swazis in Swaziland and the SADC Countries.

I understand that budgets dont remain the same. Now, in 2007, fewer Swazis and programs are being sponsored, heightening the competition and hypothetically making our students work harder in school. Perhaps we got too comfortable in our skins and maybe now the caliber of professionals will be better, who knows? I dont think that is Swaziland's problem right now. Quite honestly, I think Swaziland's problem does not lie with its monarchy rule as the rest of the world likes to point out. The fact that Swaziland has the highest AIDS prevalence rate in the world stems from our government's inability to create jobs to accomodate Swazi graduates from SADC countries and all over the world. I was never sponsored by the Swazi government, but I have countless friends who were. At the end of the day, most of us want to give back to Swaziland, but that puts us in an awkward position of power when you take into account job offers from countries with booming economies. Yes, money is a big part of the reason many Swazis do not return home upon completion of their degrees.

Your Majesty, as far back as I can remember, I've known the same set of CEOs, ministers, headteachers, economic advisors, public health officials, commisioners, etc. There is no room in Swaziland for fresh ideas, eager minds and new graduates to bring to practise what they have studied in their various fields of choice. Whether or not they have been sponsored by the government, these young professionals all deserve a go at their careers. At home. If we dont lay the kind of foundation necessary to promote our own, then our 'independence' will forever be a myth. International NGOs will find opportunity in our weakness, humanitarian aid agencies will be our back support. This is detrimental to our economic success as a growing nation. I know plenty Swazis who are studying medicine, engineering, health policy, tourism, education, business and art all over the world. When we come home, there are very limited job opportunities that will give us the intellectual stimulation and financial stability we desire and deserve. I understand that this cannot be done over night, and that not everyone can be CEO and minister straight from college or graduate school. But we can atleast be assured that if we work hard at it, we can get jobs related to our fields (not the LLM-teaching-biology phenomenon) and better promote our own people, our own ideas and our own economy, so as to be a successful monarchy with dedicated global citizens!

Bayethe!!

Fakudze Mntolo Mayisandzaba Nkhaba yashona ngatsi ise bhodleleni.
Nkhosi Dlamini!